Before jumping into 2013, I realized that there was one thing from 2012 that although mentioned on Facebook, I never cross-posted or discussed here.
Those who've known me for a while know that I spent 9 months living in Emeryville, California (away from my family) while my team and I immersed ourselves in the RelayHealth product used in the US for clinical connectivity.  Our job was to understand the product and modify it so that it can be used in Canada.  One of the big things was that we came in at the same time as a process change was being introduced in how Agile was done.  Because of my experience and knowledge, I helped with the move from Scrum to Kanban and built a process centering around knowledge sharing through VersionOne. The new Kanban process was shared with the whole company and rolled out during 2011.
After 9 months, my team and I came back to Canada and launched RelayHealth.ca – suddenly, Canada had a solution for clinical connectivity! Although the best benefits will be found when physicians connect with you through the system, a patient can still benefit from managing their own data, right now, with a free and secure account.  I've posted the links before… but here's the video overview again:
So, what's all this to do with me wanting to take one last note here?  Simple.  I wanted to point out (or boast if you will, but boast out of being very proud more than anything), that all the hard work was very much appreciated and recognized!  A few months ago I was flown to Austin, Texas and presented with a very prestigious award from McKesson: the 2012 Chairman Award for Innovation and Collaboration!  This huge award (clocking at 25lbs!) finally came in and I took a photo of it along with another award from the Product Development team.  It is that photo I wanted to share
 So, here it is: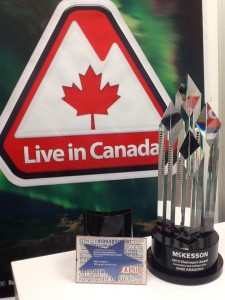 2012 McKesson Chairman Award for Innovation and Collaboration
It was the hardest decision I ever had to make, leaving my family behind.  But it was all done in order to bring to Canada something my family and I truly believed in.  And now, here it is.  You know what's allso really great?  Agile made this
Originally published at The New Floodgates of the Mind. You can comment here or there.